The Importance of Small Business Website Design, Explained
Atlanta SEO Marketing Experts
Did you know that less than two-thirds of businesses have a website?
Most of these are small, startup businesses that haven't quite got a grasp on marketing yet and aren't sure why they would need a website. While it's unfortunate for them, it's good news for you! After all, the less competition you have the more customers you can convert.
It's not just about having a website, though. If you're setting yourself up online you need to be focusing on high-quality small business marketing, and that includes investing in web design.
Not sure why? Check out just a few of the reasons here.
Give the Right First Impression
Your website is like a shop window; it's what your audience is going to judge you on. As soon as they land on your site before they've even read a second of content, they're going to judge your business! Making a positive impression is vital if you want to secure sales and drive your growth.
If your website looks outdated, badly designed, and doesn't fit your industry, immediately that first impression is going to be a negative one. They're not going to feel compelled to shop with you, and you might found your bounce rate (the number of users who leave your site before clicking on another page) increasing.
On the other hand, if your website is well designed and appeals to your audience visually, they're going to want to see more! Your website will be compelling and enticing, making your audience want to stay and take a look around.
Build Trust With Your Audience
Would you trust a website that was badly designed and difficult to navigate? No, neither would we!
If you expect users to hand their money over to you, you need to build trust with them first. A professionally designed website is one way to do this. They'll feel more comfortable browsing your site and be far more likely to actually buy something.
A dodgy looking website, on the other hand, will put them off immediately. Again, you could see your bounce rate increasing if your site doesn't convey trust.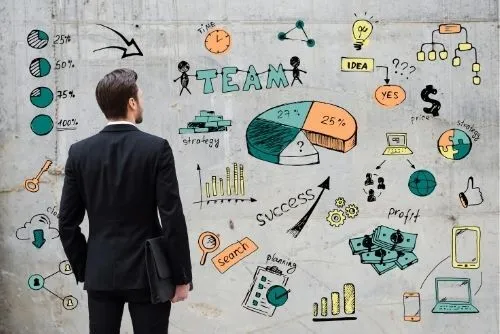 Boost Your SEO Strategy
When it comes to the importance of website design, you can't ignore SEO! SEO (Search Engine Optimization) is one of the most popular organic marketing methods to increase visibility, and it's perfect for small businesses. There's a more level playing field where you won't always be eclipsed by big-name brands, you can tailor your strategy to your budget, and you can make sure you're attracting the right audience to your website.
Your website, when designed well, can boost your SEO and help you hit those top positions in Google's search results. Here are some of the areas you need to pay attention to:
Load speeds
Ease of navigation
Bounce rate (the lower the better!)
Responsive to mobile devices
Easy to read content using header tags
If your website isn't up to snuff from an SEO perspective, you'll be struggling to gain visibility as soon as you launch. Whereas if it's optimized for SEO you'll be generating a lot more traffic! Good website design is automatically going to help SEO for a small business website, and that will help you grow exponentially.
Set the Tone For Customer Service
Because your audience can't see any of your staff in front of them, your website has to set the tone for customer service. If you've put the time and effort into your small business website design, you're going to show your audience that you'll be willing to put the time into helping them. You'll come across as more professional and friendly, and your audience will feel more comfortable about getting in touch.
If your website is outdated and badly designed, you're going to appear cold and not quite as bothered. People won't want to get in touch with a business that hasn't valued them enough to make a positive impression.
Your website is the face of your business. So, do you want that face to be bright, cheerful, and welcoming? Then you'll need professional web design.
How to Design a Small Business Website:
Website design for small business is a tricky and complex thing that takes time to get right. You have to consider navigation, brand image, who your audience is, and so much more! To give you a little more insight into what goes into making a website, here are some of the steps a designer will take.
Understanding Your Brand
Your website needs to reflect your brand identity. If you don't know what that is, a developer will help you create one. It will reflect your values, the personality of your brand, and how you want your audience to feel when interacting with you.
You need to know who your audience is, so ask yourself:
What do they value?
Who do they usually shop with?
What are they expecting from you?
Why is different about your brand?
Creating a Wireframe
Once you have a better understanding of what you want from your site, a developer will create a wireframe. This is a basic layout of all of your elements. Here, your navigation will be optimized and your layout designed in a user-friendly way, this is known as the User Interface (UI). This is your first review of the design and feel of your new website. Consider the most important thing which is the User Experience (UX). The first experience that your customer has of you is 100% subjective to their interpretation of what and how you present.
From this point the most important thing that you can do is focus on what exactly is your line of business? What is it that you are providing? This needs to be as detailed as you can because your content and SEO should be in line with each detail of what it is that you do.
Creating Content
The saying, "Content is King" is well known for a reason. The content that is on a website is just as important as the overall design. ?The days of overloading pages with targeted keywords are over. Search Engine algorithm's have become so advanced that they now factor context, syntax, and grammar when crawling and scoring websites for index. The embedded SEO and content on the visible page have to be well strategized, connected, and relevant to the marketing goal.
Even if you are a great writer you may not write the best content for websites because of the SEO optimization considerations. Due to algorithm changes and updates you could actually do more damage with content than good if you are not familiar with accepted and banned practices (known as black-hat SEO). Practices like keyword stuffing and duplicate content can end up with all of your hard work never been seen by your customers or potential customers because it is suppressed by search engines. Writing your own content and then letting a marketing professional edit it so that it is optimized before putting it on the internet.
Constant Testing
It's not the end after your site is launched! Using analytics, you'll need to keep an eye on what's working and what isn't. What areas of your site are your customers most drawn to, how many people are you converting, and why are people leaving your site?
All of this information is then used to keep on improving the site to increase conversions, reduce bounce rate, and maximize your growth.
The search engine algorithm is constantly changing and evolving with new characteristics and rules. Performance reporting is of the utmost importance after launch because it will help you take your marketing strategy from broad theory and seemingly logical choices to more of a precision guess work. You can see what your customers like and also what works well for search engine ranking. Reporting software isn't cheap and where Google and Bing do offer free solutions, they do not create the entire picture that will allow you to maximize your ad spend or content editing. We strongly recommend hiring a professional who can not only provide you reporting but will also tell you what the metrics mean and how everything works together.

Start Your Small Business Marketing
Small business marketing might seem easy at first, but when you start to look at how every aspect of your online presence is so important, it becomes a lot more complex! If you think designing a website that's going to maximize your growth is beyond your skillset, get in touch with our team at Ascend SEO Marketing. We're experts at helping small businesses and startups to start gaining customers and boosting profits.